Posts for: April, 2019
By Dandridge Dental
April 16, 2019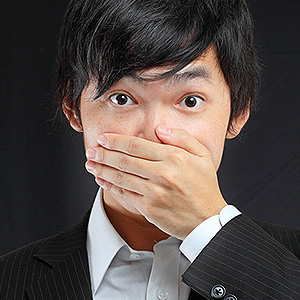 Drugs play an indispensable role in treating disease. For example, life without antibiotics would be much more precarious—common infections we think nothing of now would suddenly become life-threatening.
But even the most beneficial drug can have disruptive side effects. Antibiotics in particular can cause a rare but still disturbing one: a growth on the tongue that at first glance looks like dark hair. In fact, it's often called "black hairy tongue."
It isn't hair—it's an overgrowth of naturally occurring structures on the tongue called filiform papillae. These tiny bumps on the tongue's upper surface help grip food while you're chewing. They're normally about a millimeter in length and tend to be scraped down in the normal course of eating. As they're constantly growing, they replenish quickly.
We're not sure how it occurs, but it seems with a small portion of the population the normal growth patterns of the papillae become unbalanced after taking antibiotics, particularly those in the tetracycline family. Smoking and poor oral hygiene also seem to contribute to this growth imbalance. As a result, the papillae can grow as long as 18 millimeters with thin shafts resembling hair. It's also common for food debris and bacteria to adhere to this mass and discolor it in shades of yellow, green, brown or black.
While it's appearance can be bizarre or even frightening, it's not health-threatening. It's mostly remedied by removing the original cause, such as changing to a different antibiotic or quitting smoking, and gently cleaning the tongue everyday by brushing it or using a tongue scraper you can obtain from a pharmacy.
One word of caution: don't stop any medication you suspect of a side effect without first discussing it with your prescribing doctor. While effects like black hairy tongue are unpleasant, they're not harmful—and you don't want to interfere with treatments for problems that truly are.
If you would like more information on reactions to medication that might affect your oral health, please contact us or schedule an appointment for a consultation.
By Dandridge Dental
April 06, 2019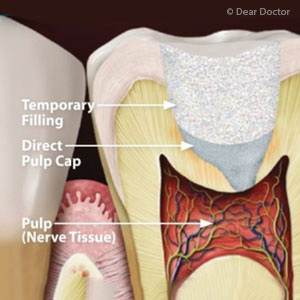 The sooner you get treated for tooth decay, the less likely you'll lose your tooth. That could mean a simple filling—or you might need a root canal treatment if decay has reached the inner pulp.
There's also another procedure for advanced decay called pulp capping. It's a bit more involved than filling a cavity but less so than a root canal. We can use it if decay has exposed or nearly exposed the pulp, but not yet infected it—otherwise, you may still need a root canal treatment to remove the diseased pulp tissue.
There are two types of pulp capping methods, direct and indirect. We use direct pulp capping if the pulp has been exposed by decay. After isolating the tooth to protect other teeth from contamination, we remove all of the decayed dentin up to the pulp. This may cause some bleeding, which we'll stop, and then clean and dry the tooth area.
We'll then apply a protective biocompatible material directly over the pulp to promote healing and protect it from further infection. We then restore the tooth's appearance and function with a life-like filling.
We use the indirect method, a two-part process separated by six to eight months, when the pulp tissue is close to the surface but not yet exposed. We initially remove the majority of decayed tooth structure, but leave some of it in place next to the pulp chamber. Although this remaining dentin is softened and decayed, we'll treat it with antibacterial chemicals, then cover it with a biocompatible material and a temporary filling.
Over the next several months the treated structure has a chance to re-mineralize as it heals. We then remove the temporary filling and assess the level of healing progress. If the regenerated dentin appears healthy, we can then remove any remaining decay and restore the teeth as we would after a direct pulp capping.
At the very least, pulp capping could buy your affected tooth time before a root canal will finally be needed. Under the right circumstances, it's an effective way to save an otherwise lost tooth.
If you would like more information on tooth decay treatments, please contact us or schedule an appointment for a consultation. You can also learn more about this topic by reading the Dear Doctor magazine article "Pulp Capping: A Procedure that may Save a Decayed Tooth."